SERGIO FIORENTINO Live in Germany 1993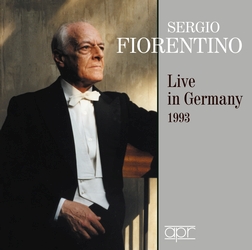 2CDs
COMPACT DISC 1 (63.17)
1-2. J S BACH/BUSONI Prelude and Fugue in D major BWV532 recorded in Münster on 14 January 1993
3-6. BEETHOVEN Piano Sonata No 31 in A flat major Op 110 recorded in Dortmund on 13 December 1993
7-10. CHOPIN Piano Sonata No 2 in B flat minor Op 35 recorded in Warstein on 11 December 1993
11. SCRIABIN Piano Sonata No 4 in F sharp major Op 30 recorded in Dortmund on 13 December 1993
COMPACT DISC 2 (72.59)
1-3. SCHUMANN Fantasie in C major Op 17 recorded in Paderborn on 12 December 1993
4. GOUNOD/LISZT Valse de l'opéra Faust S407 recorded in Paderborn on 12 December 1993
5. JOHANN STRAUSS II/TAUSIG Man lebt nur einmal! recorded in Münster on 10 December 1993
6. JOHANN STRAUSS II/GODOWSKY Die Fledermaus recorded in Münster on 10 December 1993
Encores
7. CHOPIN Waltz in E flat major Op 18
8. TCHAIKOVSKY/FIORENTINO Waltz in A flat major Op 40 No 8
9. CHOPIN Waltz in C sharp minor Op 64 No 2
10. BRAHMS/FIORENTINO Liebeslieder-walzer Op 52 Nos 1 & 6
all recorded in Dortmund on 13 December 1993
Sergio Fiorentino's career began auspiciously with successes both in competition and on the world's stages, including a Carnegie Hall debut in 1953, but a plane crash in 1954 affected him badly and momentum was lost. He recorded prolifically for British budget labels in the late 1950s and 1960s, but his concert profile was never fully to recover.
Fiorentino's 1993 German concerts marked a return to the stage two decades after the pianist's disillusionment with the performer's life had led him to concentrate on teaching. These resulting live recordings, which revealed a pianist in the grand romantic tradition, were to astound the critics and relaunched Fiorentino's career in the studio and on stage for a few glorious years, until his death in 1998.
This title was previously released as APR7036 in 1995.
APR6034
Available on Compact Disc, as a Digital Download and to Stream